Recently,
according to CNN, MySpace.com identified and removed
90,000 convicted sex offenders
from its online social-networking site.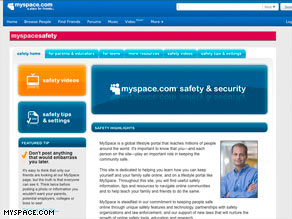 MySpace.com's chief security officer said in 2007 the site has "zero tolerance for sexual predators."
"These convicted, registered sex offenders clearly create profiles seeking to prey on children," he said, adding, "This revelation is totally appalling and unacceptable, and this shocking revelation, resulting from our subpoena, also provides compelling proof that social networking sites remain ripe with sexual predators."
National/State Sex Offender Registry
The National Sex Offender Public Registry website—coordinated by the Department of Justice—enables every citizen to search the latest information from all 50 states, the District of Columbia, and Puerto Rico for the identity and location of known sex offenders.
To run a search: Enter the site, select the "I agree" button under Conditions of Use, fill out the Search form, and select "Search."
You can also search registry websites maintained by individual states by following the links below. Note: the information contained in the national registry and the state registries is identical; the national registry simply enables a search across multiple states.
For more information:
Visit the background on the National Sex Offender Registry webpage for details on our role in developing and maintaining the registry.