Sir Charles Barkley began serving his three-day sentence after pleading guilty last month to misdemeanor drunken-driving charges.
A judge sentenced him to 10 days in jail, but his sentence was reduced in exchange for Barkley's attending an alcohol-awareness course. He now resides in Arizona's infamous Tent City.
.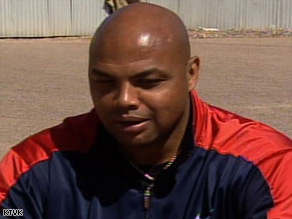 "You come here when you screw up," Barkley said at a news conference hours after he reported at the Maricopa County jail. "I don't blame anybody for this situation but myself."

In a news conference, Barkley spoke out against drunken driving, made some observations about President Obama ("Rush Limbaugh and a lot of jackasses are giving him a hard time right now").
Barkley commented on felony charges singer Chris Brown faces for allegedly beating his girlfriend, singer Rhianna.
"I wish both of them the best, but it's never acceptable to hit a woman. Period," Barkley said.
Stumble It!