AIG Gets Rescued
The U.S. government Federal Reserve Board stepped in to rescue American International Group Inc.with an $85 billion injection of taxpayer money. AIG is one of the world's largest insurers,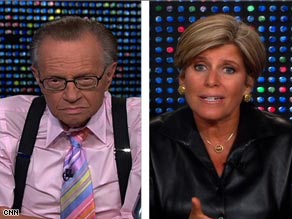 In an interview with Larry King, money guru Suze Orman says it's a good thing the federal government bailed out troubled national insurer AIG.
The federal government decided to intervene after determining a failure of the company, whose financial dealings stretch around the world, could hurt the already delicate markets and the economy.
Larry King: A few months ago, you said on this very show that you would be worried if there was another big government bailout. It's now happening. Should the government be helping AIG?

Suze Orman: Well, in this particular case, I have to tell you they should. Bear Stearns, very different. Lehman, very different. AIG is an international giant that just doesn't have ramifications here in the United States. It is worldwide. They're like in 130 countries. They have 100,000 employees. Everybody has an AIG insurance policy. So in this particular case, my opinion, thank God, they bailed out AIG. Watch Orman discuss what AIG's bailout means for consumers »
.............
Ban on Saggy Pants- Unconstitutional
just plain ugly
A Florida judge has deemed unconstitutional a law banning baggy pants that show off the wearer's underwear. According to Riviera Beach, Fl. reports, a 17-year-old spent a night in jail last week after police arrested him for wearing low pants.
The law banning so-called "saggy pants" was approved by city voters in March after supporters of the bill collected nearly 5,000 signatures to put the measure on the ballot.
According to the Palm Beach Post, the teen would have received a 150 dollars fine or community service, but he spent the night in jail due to a history of marijuana use. Records show that Riviera Beach police have filed four arrest charges against violators of the city's controversial low-riding pants law.
.........
Maryland man punches puppy and blinds it
A man took his anger out on a woman's 8-week-old dog, punching the pit bull puppy in the face and fracturing its skull, according to District Court documents.
The result was a hemorrhaging from the brain,which blinded the puppy and caused and suffered seizures, according to an Animal Control Officer in charging documents.
The puppy was euthanized with her owner's consent when her condition deteriorated.The man was chearges with two counts of animal cruelty, a felony and a misdemeanor. If convicted of the felony, he could be sentenced to three years in prison and a $5,000 fine. The misdemeanor carries a penalty of 90 days in jail and a $1,000 fine. However, in addition to his $20,000 bail on the animal cruelty charges, he also is being held in lieu of $5,000 bail, accused of violating probation from a 2003 armed robbery conviction.