There are two things that I'm tired of writing about. Here is the first;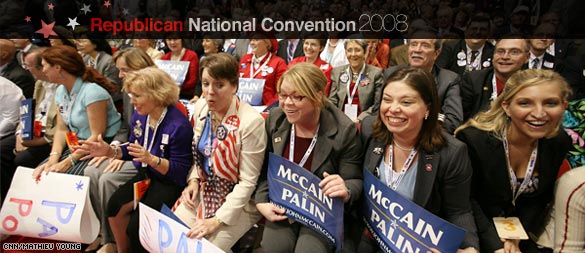 THE RNC Continues.
Sarah Palin took the stand last night and she had a few choice words for Senator Obama;
"This is a man who can give an entire speech about the wars America is fighting and never use the word 'victory' except when he's talking about his own campaign," she said.

She slammed Obama for "saying one thing in Scranton and another in San Francisco," argued that he had written two memoirs but never authored a major piece of legislation and asked what he would do "when those Styrofoam Greek columns are hauled back to some studio lot," a reference to the stage where Obama gave his acceptance speech last week.




Also on the attack, Rudy Giuliani, said the Democrats "are in a state of denial" about the threat of terrorism against the United States.
................
Here is the second thing that I am tired of writing about.
How about some relief?
Hurricane Ike grew from a Category 1 into a Category 4 storm Wednesday as it fed on the warm waters of Atlantic, the National Hurricane Center said.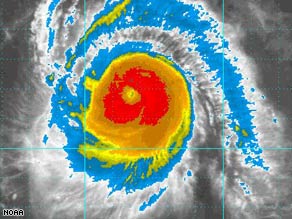 "Ike is an extremely dangerous Category 4 hurricane" with 135-mph sustained winds, the center said in its 11 p.m. ET advisory.
Although it is likely to lose some strength during the next few days, Ike is forecast to regain Category 4 status by Monday, the center said.

But the center's potential four- to five-day track for Ike puts it anywhere from north of Jamaica to the coast of South Florida on Monday.

Tropical Storm Hanna was getting more organized in the Bahamas, according to the hurricane center.

...............
Vick's Pit Bulls
WSBTV
is reporting on the progress of the canine victims of Michael Vick.
To see videos and read more specifically about the rehabilitation, visit their site
WSBTV
.
The pit bulls, all of whom were taken from Vick's Virginia property during the police raid in 2007, underwent a year-long,
$800,000 therapy program at the Best Friends Animal Sanctuary in Kanab, Utah
. The sanctuary helped the dogs overcome serious health problems and their deadly fighting instincts.
Gotta wonder if Vick gets to pay the bill.