The big news this morning in the US is all about those evil storms.


In Iowa there are a reported 4 dead and 48 injured as a tornado hit a Boy Scout camp. Frightened Boy Scouts huddled in a shelter as a tornado tore through their western Iowa campground, killing four people and injuring 48 others who had little to no warning of the approaching twister.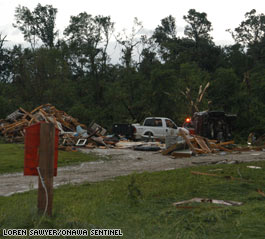 ...............................
"
That's mean. That was mean
"


This was what was heard in the background as a Marine through a defenseless puppy over a cliff.

The Marine Corps said Wednesday it was
expelling one Marine and disciplining another
for their roles in a video showing a Marine throwing a puppy off a cliff while on patrol in Iraq.he U.S. Marine Corps has disciplined two Marines over a videotape that showed a Marine throwing a puppy over a cliff, the military said Wednesday.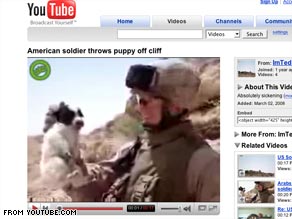 YouTube.com removed the video for violating the Web site's terms of use.
The Marines were quick to condemn the video when it surfaced, calling it "shocking and deplorable." "The actions seen in the Internet video are contrary to the high standards we expect of every Marine and will not be tolerated," the statement said

...............................
Marijuana potency increased last year to the highest level in more than 30 years
, posing greater health risks to people who may view the drug as harmless, according to a report released by the White House.
The latest analysis from the University of Mississippi's Potency Monitoring Project tracked the average amount of THC, the psychoactive ingredient in marijuana, in samples seized by law enforcement agencies from 1975 through 2007. It found that the average amount of THC reached 9.6 percent in 2007, compared with 8.75 percent the previous year.
The 9.6 percent level represents more than a doubling of marijuana potency since 1983, when it averaged just under 4 percent.
"Today's report makes it more important than ever that we get past outdated, anachronistic views of marijuana," said John Walters, director of the White House Office of National Drug Control Policy. He cited baby boomer parents who might have misguided notions that the drug contains the weaker potency levels of the 1970s."Marijuana potency has grown steeply over the past decade, with serious implications in particular for young people," Walters said. He cited the risk of psychological, cognitive and respiratory problems, and the potential for users to become dependent on drugs such as cocaine and heroin.

...............................
Scanners that see through clothing installed in US airports. Invasion of privacy?

Security scanners which can see through passengers' clothing and reveal details of their body underneath are being installed in 10 US airports, the US Transportation Security Administration said Tuesday. A random selection of travelers getting ready to board airplanes in Washington, New York's Kennedy, Los Angeles and other key hubs will be shut in the glass booths while a three-dimensional image is made of their body beneath their clothes.While it allows the security screeners -- looking at the images in a separate room -- to clearly see the passenger's sexual organs as well as other details of their bodies, the passenger's face is blurred, TSA said in a statement on its website.The installation is picking up this month, with machines in place or planned for airports in Washington (Reagan National and Baltimore-Washington International), Dallas, Las Vegas, Albuquerque, Miami and Detroit.
The ACLU said in a statement that passengers expecting privacy underneath their clothing "should not be required to display highly personal details of their bodies such as evidence of mastectomies, colostomy appliances, penile implants, catheter tubes and the size of their breasts or genitals as a pre-requisite to boarding a plane."