Martha Stewart denied a Visa from the UK- The same country that has given community service to the problematic Naomi Campbell.

photo courtesy of marthastewart.com

Martha Stewart has not been to the United Kingdom since her 2004 conviction,but, she hopes to return to the United Kingdom as soon as a reported travel ban stemming from her criminal history is "resolved,".

The statement was released after British newspapers, led by the Telegraph, reported that she had been refused a visa to enter Great Britain because of her criminal convictions four years ago.
Stewart was scheduled to meet at the Royal Academy with several figures in the fashion and leisure industry, the Telegraph reported. The newspaper attributed the rejection of her visa to a blanket policy banning people with criminal convictions.
A representative of the British Borders Agency would not comment on Stewart, saying only that "we continue to oppose the entry to the UK of individuals where we believe their presence in the United Kingdom is not conducive to the public good or where they have been found guilty of serious criminal offenses abroad."
Stewart was convicted on four counts of obstructing justice in 2004 for lying to investigators about her sale of ImClone Systems Inc. stock at the end of 2001.
Martha posted in her blog;
Because I cannot yet go to England because of my visa situation, I am leaving Warsaw to go to Prague for a bit of sight-seeing, exploring, and research. We are hoping that the visa situation will be cleared up in time for me to fulfill my business obligations in England next week. We will keep you posted. Lots of pictures are coming, so stay tuned!
................................................
She was born with 8 limbs.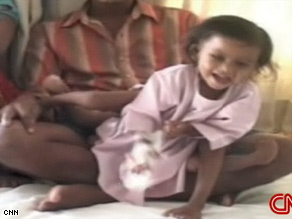 Lakshmi Tatma's family and neighbors believed that with eight limbs, the baby was the embodiment of a goddess.
Twirling in a wheeled plastic disc is unremarkable for most 2-year-olds but a big achievement for Lakshmi, a child born with eight limbs who her rural villagers believed was a goddess, not a girl, and who underwent a surgery last fall unlike any her doctors had ever performed.

When the girl was born during the Festival of Lakshmi and the new mom saw that she had eight limbs, just like the goddess Lakshmi, Poonan and others were convinced that she was the goddess incarnate.
................................................
Court overturns father's grounding of 12-year-old
A Canadian court has
lifted a 12-year-old girl's grounding,
overturning her father's punishment for disobeying his orders to stay off the Internet . The girl had taken her father to Quebec Superior Court after he refused to allow her to go on a school trip for chatting on websites he tried to block, and then posting "inappropriate" pictures of herself online using a friend's computer.
According to court documents, the girl's Internet transgression was just the latest in a string of broken house rules. Even so, Justice Suzanne Tessier found her punishment too severe.
................................................
Dumped and now up for auction.
For one week, Ian Usher's life is up for sale on eBay with the package including his $420,000 (US$397,000) three-bedroom house in Perth, Western Australia, a trial for his job at a rug store, his car, motorbike, clothes and even friends.Usher's partner of 12 years left him broken-hearted, he decided the best way to move forward was to auction his whole life, in one job lot.