It's All About the Boston Celtics
Celtics wins NBA title 131-92.
Pierce Named Finals MVP
It's their 17th NBA Championship in franchise history.
Kevin Garnett for 26 points and 14 rebounds as the Celtic

It's the Celtics' first title in 22 years, dating back to the Larry Bird era.
...........................................
The New iPhone is one HOT item .
Morgan Stanley expects the company's iPhone unit
sales to double in 2009 at the new $199 price point.
"We believe the market generally expects a doubling of iPhone units with the lower price point ($199) and we believe this is realistic, if not conservative," the investment bank said in a note.
That would mean that Morgan Stanley expects
27 million iPhones to be sold in calendar year 2009 with an average revenue of $550 per unit.
............................................
International Front..
Former Cuban President
Fidel Castro
appeared Tuesday in a video broadcast on Cuban television, the first scenes of the ailing revolutionary leader released since January.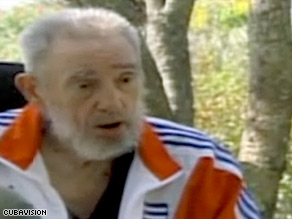 PEACE in the Mideast?
Israel has called on Lebanon to open direct peace talks between the two sides, the prime
minister's spokesman said Wednesday.
The appeal comes after
Israel agreed to a truce with the Hamas
leaders who control Gaza.
"Israel wants peace with Lebanon. We are currently negotiating with the Syrians and with the Palestinians, and there is no logical reason whatsoever why we can't negotiate with the Lebanese," spokesman Mark Regev said.
Regev said Israel "is interested in direct bilateral talks where every issue of contention will be on the table."This comment came as Israel and its longtime foe Syria hold indirect peace talks in Turkey.
Israel has never had formal diplomatic relations with Lebanon. It fought a war in Lebanon two years ago against the militant Shiite group Hezbollah, and another during the 1980s against Palestinian militants based there.
..............................................
It's gonna be one heck of a Full Moon...
As the full moon rises this Wednesday evening, you may be tricked into thinking it's unusually large. The
moon illusion,
as it's known, is a trick in our minds that makes the moon seem bigger when it's near the horizon. The effect is most pronounced at full moon.
But it really is all in our minds. The moon is not bigger at the horizon than when overhead.
According to
NASA,
The illusion will be particularly noticeable at this "solstice moon," coming just two days before summer starts in the Northern Hemisphere. The reason, lies in lunar mechanics: The sun and full moon are like kids on a see-saw; when one is high, the other is low. This week's high solstice sun gives us a low, horizon-hugging moon and a strong, long-lasting version of the illusion.
Moonrise times vary by location. On Wednesday, it will come up at these local times at these locations, according to NASA: New York City, 8:58 p.m.; Miami, 8:35 p.m.; Seattle, 9:51 p.m.
Astronomical Applications Department of the U.S. Naval Observatory.