Jesse Jackson's Obama Remarks
The Rev. Jesse Jackson apologized Wednesday for "crude and hurtful" remarks he made about Democratic presidential candidate Sen. Barack Obama after an interview with a Fox News correspondent. The remarks came Sunday as Jackson was talking to a fellow interviewee, UnitedHealth Group executive Dr. Reed V. Tuckson. An open microphone picked up Jackson whispering, "See, Barack's been talking down to black people ... I want to cut his nuts off."
Jackson told CNN's "Situation Room" that he didn't realize the microphone was on.
"It was very private," Jackson said, adding that if "any hurt or harm has been caused to his campaign, I apologize."
An Obama campaign spokesman, Bill Burton, said that the senator from Illinois "of course accepts Rev. Jackson's apology."
..........................................
Former Hostage Talks to Larry King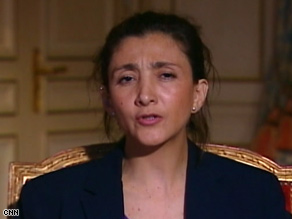 According to CNN, Ingrid Betancourt says death was her "everyday companion" during the six years she was a hostage of a leftist rebel group in Colombia. Former hostage Ingrid Betancourt tells Larry King that her captivity was "hell."
"I really couldn't even imagine that I was taking the road for seven years," she told CNN's "Larry King Live." "For me, I thought perhaps it could last for three months at the most. I couldn't imagine what was going to come."
Betancourt, who has French and Colombian citizenship, was campaigning for the Colombian presidency when the Revolutionary Armed Forces of Colombia abducted her in 2002.

"In a way, I thought that [the rebels] knew what my struggle was," she said. "I thought they were wanting perhaps something like the things I was fighting for. I was fighting for social justice. I was fighting against corruption."
..........................................
It took 12 years...
The Ramsey family has FINALLY been cleared. Recently developed "touch DNA" technology has cleared all members of JonBenet Ramsey's family of her slaying, according to authorities . JonBenet Ramsey was found dead in the basement of her family's home in Boulder, Colorado. Her father had found his daughter's body in the basement of the family's Boulder, Colorado, home on December 26, 1996. She had been strangled and beaten.
..........................................
Pam Anderson Protests KFC Down Under
Anderson, who is in Australia for a guest appearance on the "Big Brother" reality television show, visited a KFC on the Gold Coast tourist strip to hand deliver a letter to the outlet's manager protesting battery hen farming.
"I've been in Australia filming Big Brother House, in which my housemates and I are confined and sealed off from the outside world, much like the chickens who are crammed inside barns for KFC," she said in the letter, which was released by People for the Ethical Treatment of Animals (PETA).
"Fortunately, I won't be stomped to death, have my legs broken or be scalded to death in a tank of hot water, yet as PETA's undercover videos have revealed, the chickens raised for KFC's restaurants in Australia often suffer these abuses."
KFC, a major sponsor of the "Big Brother" program, released a statement denying the claims.
"KFC does not own or operate any chicken farms but works with reputable suppliers, industry and government authorities regarding humane farming practices in accordance with Australian regulations," it said.