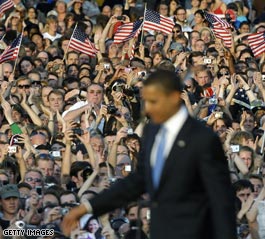 Barack Obama touched hearts during an impassioned speech to a 200,000-strong crowd in Berlin, German newspapers agreed, but suspicions remain about the White House contender's motives for courting a European audiences. Obama 's campaign has received
roughly 10 times more money from declared U.S. donors living in Germany, France and Britain than his Republican rival,
reflecting his popularity in Europe as he makes his first tour of the continent as the presumed Democratic nominee.
Federal Election Commission reports show Obama has raised at least $1 million from donors who identify themselves as Americans living in Great Britain, Germany and France, while John McCain has taken in at least $150,000.
Obama has raked in $338 million to $126.3 million for McCain.
....................................
They fell asleep on the job.
Three ballistic missile crew members in North Dakota fell asleep while holding classified launch code devices this month, triggering an investigation by military and National Security Agency experts, the Air Force said Thursday. The three crew members, who are in the 91st Missile Wing, were in the missile alert facility about 70 miles from Minot. That facility includes crew rest areas and sits above the underground control center where the actual keys can be turned to launch the ballistic missiles.
Officials said the three officers were behind locked doors and had with them the old code components, which are large classified devices that allow the crew to communicate with the missiles. Launch codes are part of the component, and the devices were described as large, metal boxes.
....................................
US home foreclosures leapt nearly 14 percent
in the second quarter from the previous quarter, according to research group RealtyTrac. This is a sign of deepening housing woes as foreclosures continue to soar. 220,000 homes were lost to bank repossessions in the second quarter, according to a housing market report Friday issued by RealtyTrac. That's nearly triple the number from the same period in 2007.
A total of 739,714 foreclosure filings were recorded during that three-month period, up 14% from the first quarter, and 121% from the same period in 2007. That means that out of every 171 U.S. households received a filing, which include notices of default, auction sale notices and bank repossessions.
....................................
Another Teen Caught on Video
A teenager shown on a video coaxing his
2- and 4-year-old nephews into smoking marijuana was sentenced Thursday to eight years in prison.
He pleaded guilty to two charges of injury to a child/causing bodily injury and agreed to testify against his co-defendant, the Fort Worth Star-Telegram reported online .
The video shows one teen lighting a marijuana cigarette in the 2-year-old's mouth, then laughing as the toddler coughs. One teen then tells him to pass it to his brother, who also smokes it and coughs. Parts of the video showed someone calling the children "potheads" and asking if they "have the munchies."
Drug tests showed the youngsters had marijuana and cocaine in their bodies. When the video was made, the children's mother was sleeping in another room, police have said. She was not arrested. The children have since been placed in foster care.
Fort Worth police found the video while searching the house in connection with a burglary investigation in which the teen also was charged. He pleaded guilty to two burglary charges and received eight-year sentences that he will served at the same time, the newspaper reported.