Two Companies to Pay Fines for Calling
The FTC is enforcings
do-not-call rules.
Two telemarketing companies that sell Dish Network Corp.'s satellite TV services have agreed to pay fines of
$95,000 for ignoring the federal do-not-call list and hanging up on customers, according to
federal regulators .
Planet Earth Satellite Inc., of Phoenix, Ariz., and its president have been charged with
calling consumers whose phone numbers are on the National Do Not Call Registry.
Star Satellite LLC, based in Provo, Utah, was accused of making telemarketing calls that failed to connect consumers to a live telemarketer within two seconds
after consumers answer the call.
The FTC said the company, its president and other defendants were
"unjustly enriched" by these "unlawful practices."
We hate telemarketers.
.........................
Barak Obama Speaks with Larry King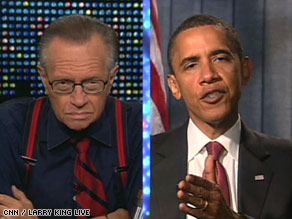 "I am absolutely convinced that strategically it is time for this [Iraq] war to end," Obama said, adding he believes the United States can withdraw combat troops from Iraq within 16 months while leaving "a residual force to engage in counterterrorism activities" and protect diplomats.

Obama also addressed the New Yorker's cover depicting him in Muslim garb and his wife as an armed militant, saying it is an unsuccessful attempt at satire that will likely fuel misconceptions he has long battled over the course of his presidential campaign.
"It's a cartoon ... and that's why we've got the First Amendment," Obama said. "And I think the American people are probably spending a little more time worrying about what's happening with the banking system and the housing market, and what's happening in Iraq and Afghanistan, than a cartoon. So I haven't spent a lot of time thinking about it."

.........................
Khloe Kardashian is going to jail. Will E! follow her?
The reality show star and youngest daughter of the late attorney Robert Kardashian admitted during a July 3 court hearing that she violated her probation stemming from a 2007 drunken driving arrest, according to court records.
A Los Angeles Superior Court judge ordered Kardashian, who's featured on E! Entertainment Television's Keeping Up With the Kardashians, to surrender to authorities on Friday and serve up to 30 days in jail. Kardashian will also have to enroll in an alcohol treatment program — one of the terms of probation she failed to complete — within three weeks of her release. She will also remain on probation.
Her drunken driving arrest was featured in an episode of the E! series. Her father gained fame for helping to represent O.J. Simpson after the former football star was accused of murder.
.....................................................

DUMB Predator.
I
mage provided by the Michigan attorney-general's office.
A 33-year-old Michigan man is accused of
wearing a "World's Greatest Dad" shirt to a meeting for sex with what he thought was a 14-year-old girl.


He has since been arraigned on charges of child sexual abuse and using the Internet to attempt child sexual abuse.