Jesse Ventura says he will not run for Senate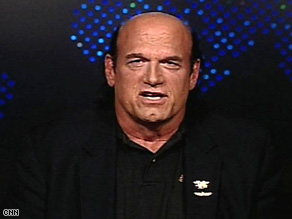 CNN is reporting that in an appearance on "Larry King Live", former Minnesota Gov. Jesse Ventura has decided not to run for U.S. Senate in that state . Jesse Ventura says he decided not to run in part because he didn't want to submit his family to media scrutiny. Ventura, an independent and a former professional wrestler, said he was "close" to running but decided against it in part because he didn't want to submit his relatives to the kind of media scrutiny he says they faced when he was governor.

.................................
She could be the oldest Stripper.


"The lady is a vamp"

Female
80 years old
LAS VEGAS, NEVADA
United States

As seen on her

MySpace
Her stage name is Tempest Storm She suffers from arthritis. And, she attended the Burlesque Hall of Fame's annual All-Star Burlesque Weekend in Las Vegas.
"I don't just get up there and rip my clothes off," she says.
The 80-year-old burlesque queen takes her clothes off very slowly.
More than 50 years ago she was dubbed the "Girl with the Fabulous Front" and told by famous men she had the "Best Two Props in Hollywood."
.................................
Flint, Michigan is missing hundreds of manhole covers.
The Flint Journal has reported that nearly
400 cast iron covers and grates have been taken from streets in the past year.
A cover can fetch $20 from a scrap yard but can cost the city more than $200 to replace. Officials in Flint, Mich., say they've had to replace hundreds of manhole covers and grates that were probably stolen and sold for scrap.
.................................
Oral Sex Competition Goes Bad
Nine British women were facing prostitution charges after being arrested at the weekend for taking part in an oral sex competition in the Greek holiday island of Zakynthos according to police. Six British and six Greek men, including two bar owners, were also charged in the incident, which took place at Laganas beach in the south of the Ionian island, which lies off the west coast of mainland Greece.
The women, who came to the popular resort on holiday, had been paid to take part in the competition, which was video recorded and was to be posted on the Internet, police said.
The men were charged with encouraging obscene behavior.