Here comes Bertha!
According to the National Hurricane Center, Bertha is the first hurricane of the 2008 Atlantic hurricane season ,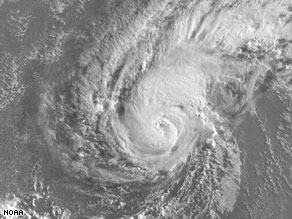 A satellite picture from 5:45 a.m. ET Monday shows Hurricane Bertha over the Atlantic.

Additional strengthening is expected during the next couple of days, according to forecasters.
The hurricane center said it is still too early to determine whether Bertha will eventually affect any land areas. The five-day forecast map shows Bertha passing near Bermuda and moving northward.

...........................................
A-Rod and Madonna???
Just on the eve of the All-Star break, Alex Rodriguez's wife is said to be traveling to Florida toll file for divorce . Cynthia Rodriguez says the marriage is over because of the All-Star third baseman's extramarital affairs, according to reports that appeared Sunday on the Web sites of Houston television station
KTRK
and
The Miami Herald
.
There are also reports linking Alex Rodriguez to Madonna, one report going so far as to say they work-out together and he is embracing her religious beliefs. Various media outlets have mentioned that Cynthia Rodriguez visited the Paris home of rocker Lenny Kravitz.
Rodriguez is the
highest-paid player in the Major Leagues, having signed a 10-year, $275 million deal before the start of the 2008 season.
...........................................
Running of the Bulls.
Why they are still doing it, I cannot tell you however, daredevils kicked off the
running of the bulls Monday
through the streets of Pamplona. This is a half mile run through cobblestone streets . The modern day celebration has evolved from bullfighting fiestas which can be traced back to the 14th century. The
Pamplona bull run
takes place at 8am every morning from 7th to 14th July. Runners must be in the running area by 7.30am.
...........................................
They thought they had proof of the existence of a rare tiger, thanks to a photo that was submitted and was subsequently earned money for someone.
When it was released, almost 9 months ago,
Chinese forestry claimed proof of the he continuing existence of wild South China tigers which have been thought to be extinct.
A farmer and former hunter in Chengguan Township of Shaanxi's Zhenping County, photographed the tiger with a digital camera and on film on the afternoon of October 3,2007 a department spokesman said. Experts had confirmed the 40 digital pictures and 31 film photographs are genuine, the spokesman told reporters.
After it had been posted on the Internet, the photo became the talk in the world of on-line forums discussing Photoshop (PS) technologies, . Then doubts started to stir. Some doubted whether the tiger is a wild one because its eyes look mild and dull, not frightening. While others said that the tiger's skin and hair seem too shiny, without three-dimensional effect, and speculated that the digital picture might be taken from another picture featuring a South China tiger, or even that a tiger picture was enlarged, made into cardboard cut-out and placed in bushes before being photographed.
The photographer had been given 20,000 yuan (US$2,666) as a reward for finding the tiger by the Shaanxi forestry authorities. But Zhou, who believes he will be further hugely rewarded by authorities because of the photos, refused to show his original photos to reporters or anyone else. "I must protect my intellectual property rights for which I have risked my life," he said.
The pictures have been removed from the internet in an attempt to control their viewing. It is not known for certain who removed them

...........................................................................
Thank You

everyone for your e-mails and comments concerning guest poster

Ryan Kubrick

.
Ryan's post created some stir and was intended solely as an informational post and had no intent to insult anyone or propagandize anything.