Wasn't the fighting suppose to have ended?
Georgian President Mikheil Saakashvili said he signed a cease-fire proposal that will be taken to Moscow. "We are trying to stop this as soon as possible," Saakashvili said in a conference call with Western reporters. He then abruptly ended the call saying Russian warplanes were flying over the presidential palace.

Swarms of Russian jets launched new raids on Georgian territory Monday and Georgia faced the threat of a second front of fighting as Russia demanded that Georgia disarm troops near the breakaway province of Abkhazia.
.................................
Olympic Quickies...
An Iranian swimmer at the Beijing Olympics who withdrew from a race that included an Israeli now says that did so because "he was ill," according to authorities .
According to a spokesman for the U.S. Olympics Committee , the woman who was stabbed on the opening day of competition is improving. She is the .mother of a former U.S. Olympian.

Abhinav Bindra won the gold medal in the 10-meter air rifle Monday giving India its first medal of the Olympics.

American swimmers kept Michael Phelps's dream alive by a finger-tip edging ahead of France in the 4x100 meters freestyle relay. Phelps wants an unprecedented eight golds in swimming.
Rafael Nadal, Roger Federer, Serena and Venus Williams are all winners at Olympic tennis. Serena Williams won all four games when her match resumed after yesterday's suspension by rain and she defeated Olgo Govortsova of Belarus, 6-3, 6-1. Nadal also made a successful debut with a 6-2, 3-6, 6-2 win over Italy's Potito Starace.

Zhang wins China's 4th weightlifting gold
Phelps easily moves on in 200 butterfly prelims

.................................
Soul King....AKA Chef is dead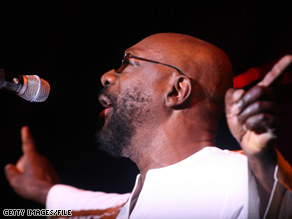 Relatives found soul singer Isaac Hayes unconscious in his home next to a still-running treadmill according to sheriff's officials in Memphis, Tennessee. Hayes who won Grammy awards and an Oscar for the theme from the 1971 action film "Shaft," could not be revived. He was 65.

In the 1999 interview, Hayes described the South Park cook as "a person that speaks his mind; he's sensitive enough to care for children; he's wise enough to not be put into the 'wack' category like everybody else in town — and he l-o-o-o-o-ves the ladies."
But Hayes angrily quit the show in 2006 after an episode mocked his Scientology religion.
"There is a place in this world for satire," he said. "but there is a time when satire ends and intolerance and bigotry toward religious beliefs of others begins."
Hayes was born in 1942 in a tin shack in Covington, Tenn., about 40 miles north of Memphis. He was raised by his maternal grandparents after his mother died and his father took off when he was 1 1/2. The family moved to Memphis when he was 6.
.................................
Dammit. I missed it.
Police near Los Angeles say motorists stopped in speeding traffic to gather up bills Sunday after a man on a Harley-Davidson motorcycle dropped a bag of cash. The biker told authorities a computer bag he was carrying ripped and spilled money across Interstate 10, where people were driving in 65 mph traffic.