Two Family Members of a US Coach Attacked in China
The perpetrator was said to have been a knife-wielding Chinese man. He attacked two relatives of a coach for the U.S. Olympic men's volleyball team at a tourist site in Beijing. The U.S. Olympic Committee said in a statement that two family members of a coach for the men's indoor volleyball team were stabbed at the Drum Tower "during an attack by what local law enforcement authorities have indicated was a lone assailant."
One of the family members was killed and the other was seriously injured, it said, without giving details. The attacker then leapt to his death immediately afterward. The second level of the tower is about 130 feet high.



.................................................................

POT Farms in the US

If you go across central Washington's 'fruit bowl', you'll find that farmers are buying vineyards, hoping to establish roots in the area and capitalize on the booming wine industry.
Now authorities believe some of the buyers are

living in Mexico and their vineyards are producing tens of thousands of illegal marijuana plants — a crop that could easily surpass grapes in value this year.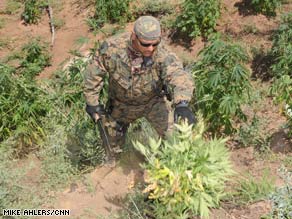 In Northern California beyond towering trees that have stood here for thousands of years, an intense drug war is being waged. Authorities uncovered more than $1 billion worth of pot plants in Sequoia National Forest this week.

Illegal immigrants connected to Mexico's drug cartels are growing hundreds of millions of dollars worth of marijuana in the heart of one of America's national treasures, authorities say. It's a booming business that, federal officials say, feeds Mexico's most violent drug traffickers.

Ten thousand marijuana plants, some 5 feet tall, dotted the mountainside's steep terrain amid thick brush, often near streams. This garden's street value is an estimated $40 million, authorities said.
"These aren't Cheech and Chong plants," said John Walters, director of the National Drug Control Policy. "People who farm now are not doing this for laughs, despite the fact Hollywood still thinks that. They're doing it to make a lot of money."
........................................
Yahoo wants to give us some privacy

Yahoo Inc. will let its Web visitors decline ads targeted to their browsing habits, becoming the latest Internet company to break from a common industry practice as Congress steps up scrutiny of customized advertising and consumer privacy.