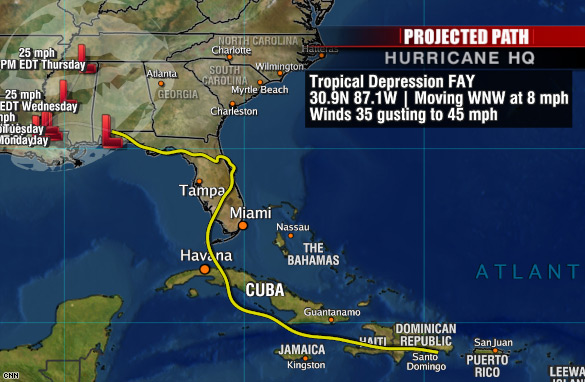 Tropical Storm Fay--Full Steam Ahead
A hurricane watch was in effect for most of the Keys and along Florida's west coast to Tarpon Springs. A tropical storm warning was issued for Florida's east coast from Jupiter Inlet southward and along Florida's west coast from Bonita Beach southward, including Lake Okeechobee.Tropical Storm Fay moved over the western end of the Cuba on its march toward the eastern Gulf of Mexico and Florida Keys, according to the National Hurricane Center in Miami.
Forecasters with the National Hurricane Center say that Fay could increase to near hurricane strength by this evening when it should reach the Florida Keys, and it could become a hurricane before making landfall on the Florida peninsula sometime Tuesday.
.........................
Joe Gibbs and Magnets
The two Joe Gibbs Racing cars that have dominated the Nationwide Series this season. Now according to reports, they will likely will face stiff NASCAR sanctions after team members were caught deliberately trying to mask the horsepower in their powerful engines. NASCAR inspectors found magnets under the gas pedals of the No. 18 and No. 20 Toyota's when the cars were sent to the chassis dyno following Saturday's race in Michigan .
The two cars have combined to win 14 of Toyota's 15 victories in 25 Nationwide races this season. NASCAR last month ordered all Toyota teams to cut about 15 horsepower in their motors.
.........................
Harry Potter Release Delayed--Twilight Release Moved Up
Twilight author Stephanie Meyer is denying on her blog that the Twilight movie release was moved from mid December to November 21st to cover for the Harry Potter release delay.
Warner Bros. announcing last week it was bumping the sixth movie in the series from fall to next summer. But Entertainment Weekly — which shares the studio's parent company, Time Warner Inc. — was unaware, featuring "Potter" star Daniel Radcliffe on the cover of its Aug. 22-29 fall-preview issue.
Meyer says that "this schedule change has absolutely nothing to do with
Twilight
, me, or Summit Films (so enough with the imdb death wishes, okay?). This is Warner Bros. decision, and it was not motivated by anything
Twilight
-related."
.........................
How much is Phelps Worth Now?
Michael Phelps is already collecting about $5 million a year in endorsement checks from companies like Visa.
"He may be at $30, $40, $50 million a year in endorsements after all this is said and done," said David Harrow of the National Sports Lawyers Association.
Hello Wheeties!