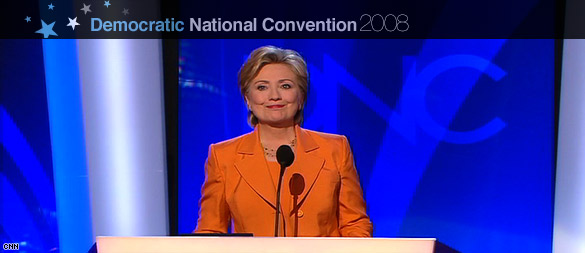 Clinton: 'No way, no how, no McCain' Hillary Clinton called herself a "proud supporter of Barack Obama" after Democratic convention delegates greeted her with a standing ovation: "Barack Obama is my candidate. And he must be our president." VP hopeful Joe Biden will make his first appearance before the Democratic National Convention tonight. Also, former President Clinton will be speaking.
...............................................................
Remember the Obese woman who was charged with rolling over on a child killing him?
The half-ton Texas woman was charged in the death of her toddler nephew says that she couldn't have beaten the boy to death because of her limited movement from weight problems, according to her attorney .
Prosecutors said the 2-year-old boy died after being struck at least twice in the head while in the care of Rosales, who is bedridden.
The boy's mother, believes the death was possibly caused by the morbidly obese woman rolling onto the toddler, according to her attorney. She faces one felony count of injury to a child, which carries a life sentence and 10,000 in fines.
...................................................
Mattel $100,000,000 : Bratz Legal and Court Fees
Bratz has given Barbie some hefty competition over the past few years. A federal jury awarded Mattel Inc. $100 million in damages in a federal copyright lawsuit that pitted Barbie against the maker of the Bratz dolls. Damages were awarded for contract interference and copyright infringement. No punitive damages were ordered against MGA.
The same jury that decided the damages phase concluded last month that the Bratz designer came up with the Bratz concept while working at Mattel.
......................................................

Couple Tries To Swap Girls for a Used Car
A court in San Antonio, Texas says that a couple intended to offer the sexual services of their five-year-old daughter in return for an apartment, a used car and child care for their 10-month-old daughter. It is alleged the couple also intended to sell the sexual service of the 10-month-old at a later date.
According to an affidavit the couple came under investigation when an informant told the FBI about a text message sent by the couple which read: "Nice piece 5 yrs old belongs to my gf and she wants to sell it."
.............................................
Got Bags Under Your Eyes?
Researchers in the September 2008 issue of the Journal of Plastic and Reconstructive Surgery.
say it caused by fat in the eye socket expanding. In a from UCLA and a plastic surgery resident at the University of California, Irvine, says that there is actually an increase in fat with age, and it is more likely that the fat increase causes the baggy eyelids rather than a weakened ligament.