Tropical Storm Edouard is headed for Texas and may get stronger before landfall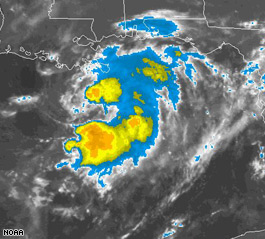 A hurricane watch is in effect from west of Intracoastal City, Louisiana, to Port O'Connor, Texas, as Tropical Storm Edouard picks up speed.
Edouard's top sustained winds are 50 mph,
and the National Hurricane Center predicts it may be near hurricane strength before making landfall Tuesday morningEmergency teams were activated as residents along the Gulf of Mexico prepared to get hit with another strong storm for the second time in less than a month.
.......................................................................
"Grand Theft Auto" Copycat
A Thai video game distributor halted sales of "Grand Theft Auto" after a
teenager confessed to robbing and murdering a taxi driver while trying to recreate a scene from the controversial game.
The 18-year-old high school student, now in custody pending further investigations and a trial,
faces death by lethal injection if found guilty of robbing and killing a 54-year-old taxi driver with a knife at the weekend.
The suspect told police he did not mean to kill the driver, whom he had chosen as a possible victim because of his age, but that he stabbed him to death when he fought back, newspapers reported.
"Grand Theft Auto," has been criticized for depicting violence including beatings, carjackings, drive-by shootings, drunk driving and prostitution.
Police said the youth, an obsessive player of "Grand Theft Auto," showed no sign of mental problems during questioning and had confessed to committing the crime because of the game.
.......................................................................
Kathy Hilton speaks up
The mother of Paris Hilton's mother doesn't appreciate John McCain's sense of humor.
The Huffington Post is a blog post from Hilton in which she calls the McCain campaign's "
Celeb ad, in which Paris Hilton is fleetingly linked as a celebrity to Barack Obama, "a complete waste of the country's time and attention at the very moment when millions of people are losing their homes and their jobs."
McCain, the Republican presidential candidate, said last week that his campaign ad mocking Democrat Barack Obama with images of Hilton and singer Britney Spears was part of an attempt to inject humor into the presidential race. Mr and Mrs Hilton have donated a reported $4600 to the McCain presidential campaign.
The ad plays on Obama's popularity by dismissing him as a mere celebrity, like Hilton and Spears.
.......................................................................
Forgot their kid at the airport
Israeli airport police say a couple going on a European vacation
remembered to bring their duty-free shopping and their 18 suitcases.
However, they forgot their 3-year-old daughter at the airport.
The couple and their five children were late for a flight to Paris Sunday and made a mad dash to the gate. In the confusion, their daughter got lost. Sounds like a movies script from Hollywood.
.....................................................................
Another Beheading
A 31-year-old Greek man accused of beheading his girlfriend with a cleaver.
Police said restaurant cook Thanassis Arvanitis
severed the head of his 25-year-old girlfriend on the holiday island of Santorini and tried to escape in a police car


Following an argument, "the [suspect]
slaughtered their dog and threw it out of their home and on to the street and proceeded to kill the woman ... totally severing her head,"
a statement from the South Aegean Police Department said.surrender to police officers, before attacking one officer with the cleaver and escaping in a patrol car. He was shot three times in the chest and lower torso by police while trying to flee.