Olympic Update
The Olympic flame approached it's final destination greeted by rapturous crowds in the Chinese capital two days before it officially launches the Summer Games.
Activists from the U.S. and U.K. unfurled pro-Tibet banners and spoke out against China's rights record in Tiananmen Square. Police led away four of the activists

Who is going to the opening ceremonies? President Bush is going, as is Australia's premier. So is French President Nicolas Sarkozy, after he backed off a threat to boycott. Even Taiwan is sending a representative to the ceremony as ties warm between the rivals.
President Bush plans to pointedly express

"deep concerns"

about the state of human rights in China and urge the communist nation to allow political freedom for its citizens.


The leaders of Britain, Germany and Canada are skipping the show.
Probably to the relief of Chinese authorities, so too are the authoritarian chiefs of Sudan, Zimbabwe and Iran, as is North Korea's dictator Kim Jong Il.

Bush is to deliver the address in a Bangkok, Thailand, convention center on Thursday morning to a crowd of foreign diplomats.

"America stands in firm opposition to China's detention of political dissidents, human rights advocates and religious activists," Bush is to say in the marquee speech of his three-nation Asia trip. "We speak out for a free press, freedom of assembly and labor rights — not to antagonize China's leaders, but because trusting its people with greater freedom is the only way for China to develop its full potential."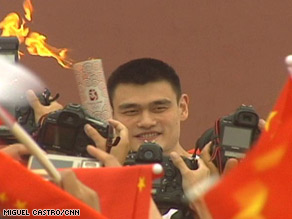 Another face in the crowd: Yao Ming carries the Olympic torch in Beijing
...........................................................
Iraq making millions $$$$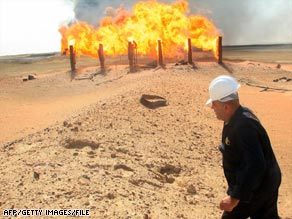 Leading members of Congress, noting that Washington is paying for reconstruction in Iraq, expressed outrage at the assessment. One called the findings "inexcusable."
"We should not be paying for Iraqi projects while Iraqi oil revenues continue to pile up in the bank, including outrageous profits from $4-a-gallon gas prices in the U.S.," said Sen. Carl Levin, the chairman of the Senate Armed Services Committee. "We should require that U.S. taxpayers be reimbursed for the cost of large projects."
...........................................................
Paris Speaks Up
Paris Hilton has responded to the John McCain mess. She responded with a spoof on the comedy Web site Funny or Die.

"Hey America, I'm Paris Hilton and I'm a celebrity, too. Only I'm not from the olden days and I'm not promising change like that other guy. I'm just hot," Hilton said, speaking as she reclined in a pool chair in a revealing bathing suit and a pair of pumps. "But then that wrinkly, white-haired guy used me in his campaign ad, which I guess means I'm running for president. So thanks for the endorsement white-haired dude."

"I want America to know that I'm, like, totally ready to lead," she said.

She then discusses energy policy, and suggests a hybrid of McCain's offshore oil drilling plan and Obama's incentives for new energy technology.

"Energy crisis solved! I'll see you at the debates," she said,
.............................................................
Doggyspace.com
It is marketed as being a crossbreed between MySpace and YouTube.
Doggyspace
allows dog owners from all over the world to come together, create profiles, and share photos and videos of their pups.
Since launching in mid-July, Doggyspace has logged more than 700 registered. Seriously. active user profiles — 73 percent of them created by females . Doggyspace's people say that that Doggyspace will have more than two million accounts by the end of the year.
Standard accounts for the site are free, but later this year Doggyspace plans to offer premium accounts for a small fee that will give users extra features. A portion of that fee will go to an animal charity of the members' choice.