Phelps wins 9th career Olympic gold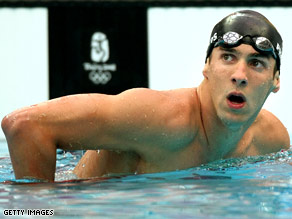 Michael Phelps is one medal away from holding the record for the most gold medals in Olympic history. Phelps won his third gold medal and record-tying ninth of his career on breaking his own world record in the 200-meter freestyle. He American won in a time of 1 minute, 42.96 seconds, lowering his old mark of 1:43.86 set at last year's world championships in Australia.

..........................................
Bush Versus the Environment
President Bush leaves office in just a few monthes and he is making sure that environmentalists know about it. Bush is proposing changes that would allow
federal agencies to decide for themselves whether subdivisions, dams, highways and other projects have the potential to harm endangered animals and plants.
The proposal is intended to cut out the advice of government scientists who have been weighing in on such decisions in the past. Agencies also could not consider a project's contribution to global warming in their analysis.
..........................................
Being overweight may not be so bad
A new study suggests that about half of all overweight people have normal blood pressure and cholesterol levels, while an equally startling number of trim people suffer from some of the ills associated with obesity.
The results also show that stereotypes about body size can be misleading, and that even "less voluptuous" people can have risk factors commonly associated with obesity, said study author MaryFran Sowers, a University of Michigan obesity researcher.
..........................................
Corporations not paying taxes
Two-thirds of U.S. corporations paid no federal income taxes between 1998 and 2005, according to a new report from Congress. The study by the Government Accountability Office says that about 68 percent of foreign companies doing business in the U.S. avoided corporate taxes over the same period.
According to GAO's estimate, collectively, the companies reported trillions of dollars in sales,
The GAO said it analyzed data from the Internal Revenue Service, examining samples of corporate returns for the years 1998 through 2005. For 2005, for example, it reviewed 110,003 tax returns from among more than 1.2 million corporations doing business in the U.S.